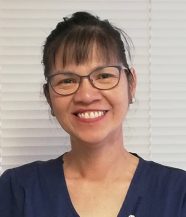 BOH (Otago),  Post Grad Dip Public Health
Hello, I am Mildred and I graduated with a Bachelor degree of Oral Health from University of Otago in 2020 and joined the team at Dentistry on Parkside in February 2021.  In 2012, I studied a Postgraduate degree in Public Health with special interest in health promotion from University of Auckland. I trained and practiced dentistry for over 10 years before my family and I migrated to New Zealand in 2007.  My passion for dentistry and public health led me to practice oral health therapy providing quality care to patients, with respect to their values and needs; educating them on the importance of healthy dental practices; promoting wellbeing and beautiful smiles.
I am gentle, outgoing, courteous and have the ability to relate comfortably with people. When I am not at work, I spend my time with my family. I love cooking, baking, watching movies or TV, sewing and crocheting. I enjoy travelling here and abroad as well as discovering places with my family.