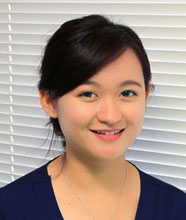 BOH (Otago), BBiomedSC
Hi, I'm Joanne and I have been working with the team at Dentistry on Parkside since 2015 as a Registered Oral Health Therapist.  Before moving to Christchurch in 2008, growing up in Malaysia has allowed me to experience a mix of different cultures and languages.  After graduating with a Bachelor of Biomedical Sciences (B.BiomedSC) majoring in Microbiology and Immunity.  I then commenced with a Bachelor of Oral Health (BOH) at the University of Otago. I am also currently in the process of completing a Postgraduate Diploma in Health Sciences to broaden my knowledge in order to improve the health of our local community.
My role at Dentistry on Parkside is an incredibly enjoyable one, focused on early prevention and treatment. I love seeing the positive impact oral hygiene treatment has on my patients' teeth and gums, as well as engaging younger patients to look after their oral health from a young age.  I am passionate about empowering people in making changes and adopting habits to maintain a healthy mouth, as the mouth is a window to your overall health.  Previously, I have also worked with the Community Dental Services and I delight in working with children and adolescents, ensuring they have an enjoyable and comfortable dental experience.
Outside of work, I enjoy spending time with family and friends as well as travelling and meeting new people. My latest adventure took me on a 2 month European getaway.  I also have a penchant for reading, writing, arts and crafts, music and video/board games.